Membership
Leadership, Engagement, Collaboration, Communication
Add value to your Potato Business and become a member of the Potato Growers of Alberta. Be informed and educated on things like Research projects, Environmental Farm Plan, On Farm Safety programs and so much more with your membership.
CONTACT THE PGA TO BECOME A MEMBER
Licensing
The Marketing of Agricultural Products Act of Alberta regulates the operations of the PGA. The Act outlines that a farming organization or an individual is required to be licensed annually with the PGA in order to sell their potatoes, if they fit into the following categories:
Grow five acres or more of potatoes in Alberta.
Produces Plantlets or nuclear seed.
Are engaged in buying or selling of potatoes in the Province.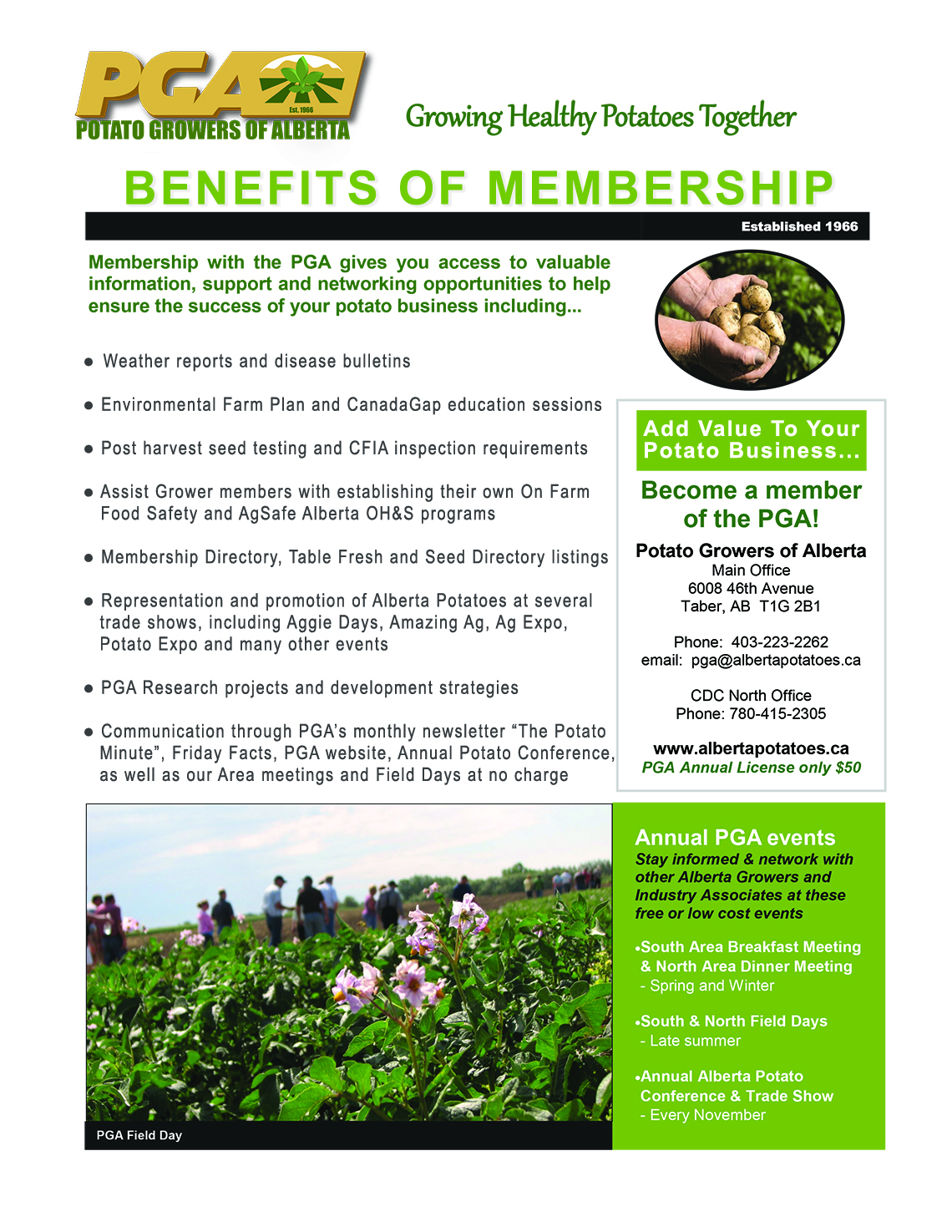 ---
Types of Membership
| | |
| --- | --- |
| Producer | A producer of process, table fresh, or certified seed potatoes |
| Greenhouse/Laboratory | Operate a greenhouse with annual sales of $10,000 or more |
| Packer/Dealer | Engaged in marketing potatoes purchased or received from a licensed grower |
| Industry Associate | Membership partners with the Alberta Potato Industry Association |

The Alberta Potato Industry Associates are a group of industry associates who work alongside the potato growers and their families. This partnership was created in 1990 and is still going strong. They participate in both supportive and lead roles in various activities, including the organization of the Trade show at the Alberta Potato Conference in November and co-hosting the banquet. Every July, they host the Annual Burgers N' Beans family barbeque and are involved in many other events throughout the province. Membership with this group is very beneficial for any business associated with the Alberta Potato Industry. For more information or to become a member of the APIA call Dennis Chinner @ 403.317.4308
---